Kathryn Anthony Interviews
Kathryn Anthony's publications have sparked media attention in NPR, CNN, Time, the Boston Globe, the Guardian, the New York Times, Toronto Star, and elsewhere. She has testified before Congress regarding gender equity in public restrooms.
**
The fight for potty parity: how sports venue toilets value men over women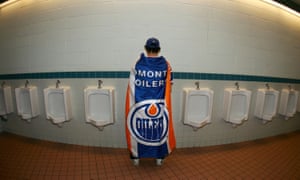 A controversy over bathrooms at Edmonton Oilers playoff games had the team's female fans in an uproar.
https://www.theguardian.com/sport/2017/may/11/edmonton-oilers-womens-bathrooms-female
**
Dove's soap bottles sell plastic female 'empowerment'. Don't buy it.
http://www.macleans.ca/society/dove-is-selling-plastic-female-empowerment-dont-buy-it/
The soap-maker gives an unintended lesson in how female 'empowerment' is exploited for profit and political currency
**
University of Illinois News Bureau's press release about Defined by Design
https://news.illinois.edu/blog/view/6367/481228
**
It doesn't matter how you're built or what your gender is — one size never fits all, but most consumer products are made with the assumption that one size will fit most.   http://www.bostonglobe.com/ideas/2017/03/18/sorry-design-just-hates-you/JO2uBxNNYlZ5cdbfN80PuN/story.html
**
How Stores Are Designed To Fat Shame Store layouts often discriminate against plus-size shoppers, writes professor Kathryn Anthony. What can be done about it?  https://www.fastcodesign.com/3068975/how-stores-are-designed-to-fat-shame
**
The designers of clamshell packaging probably didn't anticipate the phenomenon nicknamed "wrap rage."  (

RICK MADONIK / TORONTO STAR FILE PHOTO

) 
"Clamshell packaging is an often dangerous lesson in bad design." Excerpt from Defined by Design: The Surprising Power of Hidden Gender, Age, and Body Bias in Everyday Products and Places by Kathryn A. Anthony, Prometheus Books (March 14, 2017).  https://www.thestar.com/news/insight/2017/03/04/clamshell-packaging-is-an-often-dangerous-lesson-in-bad-design.html
**
Credit 

Hilary Swift for The New York Times
Paulson, Michael. "Broadway's Bathroom Problem: Have to Go? Hurry Up, or Hold It." The New York Times (Feb. 7, 2017). https://www.nytimes.com/2017/02/07/theater/broadways-bathroom-problem-have-to-go-hurry-up-or-hold-it.html
**
Lopez, German. Texas' anti-transgender bathroom bill, explained. Texas' lieutenant governor is leading the charge for a new bathroom bill—by touting a big myth." Vox.com (January 5, 2017).  http://www.vox.com/identities/2017/1/5/14173882/texas-transgender-bathroom-law-lgbtq
**
Heckel, Jodi. "Universal podium design helps keep the focus on a speaker's message." Illinois News Bureau.  (June 1, 2016).  https://news.illinois.edu/blog/view/6367/369247
**
"Kathryn Anthony Addresses Gender-Neutral Bathroom Design."  College of Fine and Applied Arts News, University of Illinois at Urbana-Champaign.  (May 27, 2016). https://faa.illinois.edu/news/kathryn-anthony-addresses-gender-neutral-bathroom-design
**
"Transgender bathrooms: An architectural perspective." My Science.org. (May 26, 2016). https://www.myscience.org/wire/transgender_bathrooms_an_architectural_perspective-2016-illinois
**
Heckel, Jodi. "Transgender bathrooms: An architectural perspective." Illinois News Bureau. (May 26, 2016). https://news.illinois.edu/blog/view/6367/366402
**
Lopez, German. "Anti-transgender bathroom hysteria, explained." Vox.com (May 20, 2016). http://www.vox.com/2016/5/5/11592908/transgender-bathroom-laws-rights
**
Sutter, John D. "Transgender rights. 'We need a restroom revolution.'" CNN.com (May 9, 2016). http://www.cnn.com/2016/05/09/opinions/sutter-gender-neutral-restrooms/index.html
**
La Ganga, Maria L.  "From Jim Crow to transgender ban:  the bathroom as battleground for civil rights."  The Guardian. (London, UK) (March 30, 2016).  http://www.theguardian.com/world/2016/mar/30/transgender-ban-bathrooms-north-carolina-civil-rights
**
Ferris, Laurie.  "Where are they now? Kathryn Anthony." I-House:  Where UC Berkeley Meets the World. (June 29, 2015). https://ihberkeley.wordpress.com/2015/06/29/where-are-they-now-kathryn-anthony/
 **
Bliss, Laura. The Lack of Equal Bathroom Access for Women is a Global Design Flaw." The Atlantic. Citylab. (November 7, 2014). http://www.citylab.com/politics/2014/11/the-lack-of-equal-bathroom-access-for-women-is-a-global-design-flaw/382418/
**
Delap, Josie.  "Sexual equality and sanitation:  Flushing away unfairness."The Economist. (July 10th – 16th 2010), p. 60. http://www.economist.com/node/16542591
**
"Potty Parity' Bill to End Some Long Ladies' Room Lines "  ABC News , abcnews.go.com       (May 12, 2010). http://abcnews.go.com/Politics/congress-considers-potty-parity-bill-women/story?id=10624844
**
"Hearing Held on Gender Parity in Federal Building Restroom Facilities."  Ms. Magazine.Ms.Magazine.com (May 13, 2010).  http://www.msmagazine.com/news/uswirestory.asp?ID=12398
**
Dwyer, Devin.  "'Potty Parity' Bill to End some Long Ladies' Room Lines:  Congress Sees Lingering Gender Discrimination in Unequal Toilet Facilities for Women."  ABC World News with Diane Sawyer (May 12, 2010). http://abcnews.go.com/Politics/congress-considers-potty-parity-bill-women/story?id=10624844&page=1
**
Branch, John.  "Ballpark Statisticians Follow A New Count, the Toilet Ratio."  The New York Times. (Monday, April 13, 2009), pp. A-1, A-14.  Kathryn Anthony selected as Quotation of the Day, p. A-3.   http://www.nytimes.com/2009/04/13/sports/baseball/13potty.html
**
Daugherty, Paul. "No easy call in trying to plan a potty break at the ballgame."  USA Today. (April 15, 2009).   http://www.usatoday.com/sports/columnist/daugherty/2009-04-15-potty-waiting_N.htm
**